I have an obsession with all things beach/nautical related. Especially anchors. I have anchor accessories, tops, decorations, I even have an anchor tattoo on my ankle.
So when I came across this little wooden anchor in a "junk shop" in Rockport, TX, I had to get it!
This is the back. (I forgot to take a picture before I started...)
When I got it, I wasn't sure what I wanted to do with it. It was plain wood with a thin coat of clear varnish. Virtually a blank canvas! Eventually, I decided I wanted to try painting it and then sanding it in places to give it an antique feel.
I used Sea Foam Green and Navy Blue acrylic paint.
I started by painting 1 coat of the Sea Foam Green, which looks a bit blue in this picture...
Once that dried, I followed it up with 2 coats of Navy, letting each coat dry in between
Once it was completely dry, I took some 220 grit sandpaper and went at it!
I mainly sanded the edges, and went all the way down to the wood. I sanded the front face a little, just to get some of the Nave Paint off, so you can see the Sea Foam beneath.
When I was done with the sanding, I still didn't know exactly where to put it. But then, when we were putting up the
cork board
I made, I had a lightbulb moment!
I had my wonderful husband drill a hole in the back of the round part. He drilled about 1/3 of the way through. Then I took a dab of hot glue and glued a thumb tack in the hole.
Then I centered the anchor in the middle of the cork board, and voila!
What do you think? Here's the whole picture...
I wasn't sure at first, but now I adore it. I've been staring at that wall the whole time I've been writing and it just makes me happy :)
What new touches have you added to your decor lately?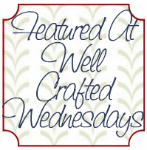 Pin It Now!